Benny's beauty salon is an accustomed name in Juhu and the other parts of Mumbai since 1989. Offering highly professional services with no compromise with the quality, Benny's is the ultimate place for all your beauty needs.
It is blessed with a highly qualified and trained team of beauty experts, with an experience of over 24 years, to deliver best results and give you much more than just satisfaction and good looks!
Benny's maintains the International Standards of Beauty and keeps upgrading to the latest styles, methods and equipments. It has been accredited with ISO 9001:2008 Certification. Apart from chic and fashion-conscious ladies of town and suburban areas that are regular customers of Benny's, there are number of customers that come all the way from Pune, Ahmedabad, Chandigarh, etc. just to re-experience the pleasure they derive from the services provided at Benny's. Many NRIs, Bollywood /TV celebrities and socialites also frequent this place as they know they will not get anything but the best services at Benny's.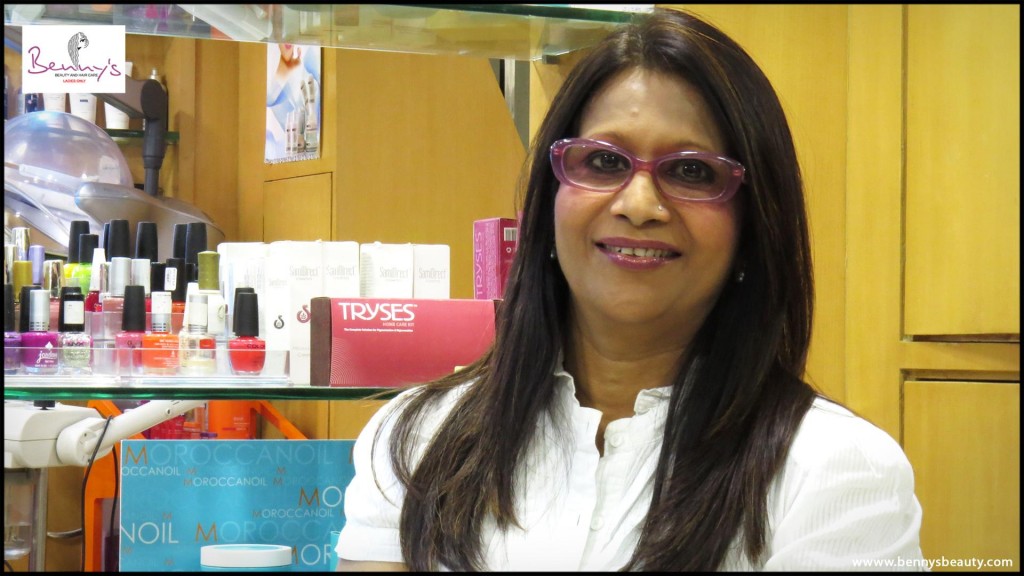 Ms Kiran Gill, popularly known as Benny, is the founder of Benny' Beauty Salon. Due to her mastery and talent, she has made her mark in the beauty industry. Her experience of 40 years in the beauty business has only enriched her talent and expertise. She has achieved mastery in her art and is extremely attentive to accuracy and details. She was groomed and trained by the Late Mrs.Ray Stevenson and Late Mr. George Stevenson, who were pioneers of the beauty business in India at Taj Hotel, Mumbai. She worked under their supervision and grasped the techniques of this art.
Ms Kiran Gill (Benny) has studied in some of the prestigious institutions of U.K. and has earned number of degrees. The list of the same is given below:
Vidal Sassoon –London
TONI & GUY-LONDON
International School of Makeup- London
Grace Andrews College of Beauty Therapy, U.K.
Perfector Systems (use of advanced equipments for Beauty
Therapy) – Surrey, U.K.
London Esthetique (Advance Beauty therapy)- London
Trained in a prestigious Nail Art Academy in U.K.(in 90's), Benny is the pioneer of nail extension and nail art.
Ms. Kiran Gill has been a member of various reputed international organizations of the beauty industry such as The British Association of Beauty Therapy & Cosmetology in U.K., Federation of International Beauty Therapists, and Society of British Therapists.
Benny's is one of the most sought-after beauty destinations for your hair, skin, nail art, nail extension and all other beauty needs. You will get solution to all your beauty problems and needs under one roof!